History of the farm 
"We were farming in the Netherlands a 90-cow herd. We came to Portugal in 1996 and brought 150 heads of pure Holstein Frisian to Herdade da lavradia in Fronteira, Portugal. We (Lambert & Gerrie and their children Gerjanne, Jennifer and Albert) started to transform a cereal farm into a dairy farm, together with his brother and wife. On this 77-ha farm we started selling milk from 01-01-1997 in poor conditions. Then we started building the dairy barn and increasing the size of the herd.  In 2002 the brother went back to the Netherlands. Having had many employees during several years from different countries & now we work with 4 employees: Oscar, Pedro, Pedro & Joao. They work with us & do a very good job. Now we farm on 90 ha all pasture for grazing, we keep a small part of the plot to make silage. We buy corn silage nearby. All the milking cows are fed TMR & are kept in one group."
The current data of the farm (production, number of cows, reproduction, fertility…, etc.)
Data from 14-7-2020.
| | |
| --- | --- |
| Adult cows | 305 |
| In production | 253 |
| Dry cows | 52 |
| % ProCROSS cows | 85% |
| Young stock | 150 |
| Average age at first calving | 25 months |
| % first lactation | 21% |
| % second lactation | 16% |
| % third and over lactations | 63% |
Fertility
| | |
| --- | --- |
| Starting insemination at | 55 days |
| % cows pregnant | 52% |
| % cows shown to vet. Without insemination | 8% |
| Inseminations/pregnancy (cows) | 2.0 |
| Calving interval | 390 |
| Conception rate at 1º ins. | 51% |
| Conception rate at control | 83% |
| Inseminations/pregnancy (heifers) | 1.4 |
Production
| | |
| --- | --- |
| Days in milk | 165 |
| Milk sold/cow/2019 | 10.016L |
| Average prod./cow present | 35.998 L |
| Average lifetime prod./ cow in 2019 | 48.439 L |
| Cows over 100.000 L | 6 |
| Cows over 50.000 L    | 82 |
Better Health. Reduction of 37% of the health costs in 9 years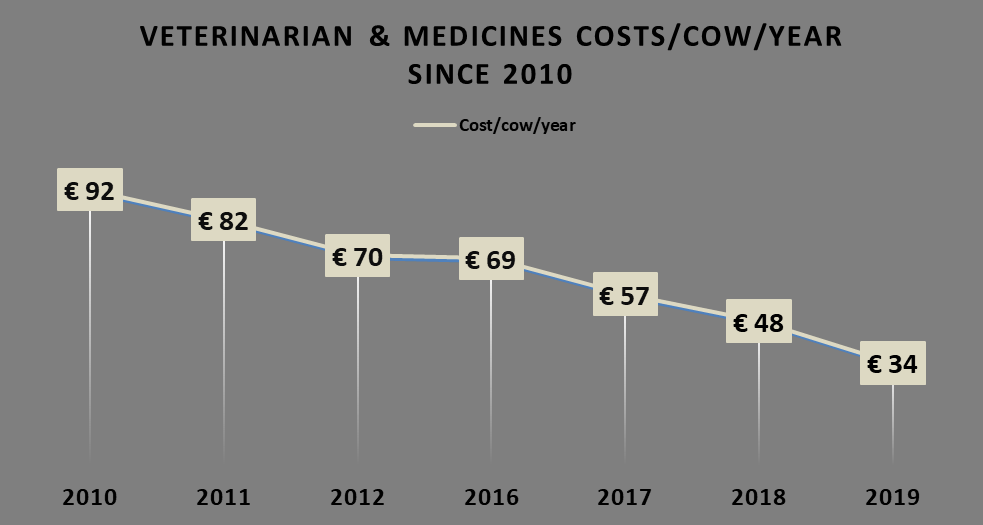 Replacements
Mortality
Adult cows 2019     1,6%
Young Stock up to 1 year of age including stillbirth, twins
Why did you start ProCROSS? & When?
"After 10 years using aAa code, we saw a good uniform herd, but the hospital pen was still full due to typical Holstein problems. In 2008, I was invited to come along on a ProCROSS tour in California. The cows were not spectacular but the herds sizes were amazing & they showed us the University of Minnesota studies results. It convinced us to start breeding with Montbeliarde from Coopex.  In 2009, 22 crossbreds' cows were born, and we appreciated these first calves. So, we started slowly to inseminate more with Montbeliarde semen. Since 2012, we do it 100%. We always do the rotation like this: Holstein → Coopex Montbeliarde → VikingRed → Holstein.
The result: we have 6 ProCROSS cows reaching over 100.000 L today. Until now we keep records of the pure Holstein and the crossbreds born in 2009 with interesting results convincing us to keep on with ProCROSS."
How did you get the idea to start ProCROSS?
"We wanted a stronger cow as we had many problems with our Holstein cows (particularly health & fertility). So, we started crossbreeding based on the studies showed in the US with lots of data up to date. The Rotation with Holstein / Montbeliarde / VikingRed breeds is very successful. We did not loss in production, fat and protein and the herd is more resistant and durable."
What was your situation before?
"The herd was 100% Holstein based on aAa code. That gave us a beautiful herd but with typical Holstein problems, that you don´t see any more with ProCROSS cows. Like fertility, health problems, startup problems in early lactation. We needed more replacement heifers at the time, 15% more."
What is your situation right now?
"We still have a good number of older Holstein cows, a good lot who make us good money.
In terms of management we have less young stock, less in the hospital pen, less treatment costs, the milk is well appreciated by the cheesemaker and our workforce is happier.
Now we've been milking ProCROSS cows for 10 years, every year more and we are very happy with this change. Due to less replacement, better fertility and more longevity we have been able to sell ProCROSS animals to other farms in Portugal and Spain.
Unfortunately, no one of our children are going to take over, and we are looking for someone in time to take the reins of the farm."
What are the specific aspects of the ProCROSS cows that you like?
"A crossbred is more alert, curious, self-supporting and calm.
You see a herd worth showing to anyone entering the farm."
If you had one thing to say about the ProCROSS, what it would be?
"Robust cows who gives you a higher lifetime production, with more health & fertility, higher ROI and more job satisfaction."
What bulls do you use? (VR & Montbeliarde).
VikingRed
VR Falcon
V Föske
Montbeliarde
GoodYear
Ralban
What are your selection criteria?
"We prefer proven bulls and use them for many years. They need to have a aAa code.
For Montbeliarde, we choose medium& low stature bulls.
For VikingRed, we choose bulls with medium stature to keep uniformity."
Do you think, you are doing more money right now?
"Yes, we do the numbers, we do not have more milk in our tank, but the milk quality is great.
We have less youngstock only from the top cows, less work per cow, & we also save labor because of the herd health and fertility has improved, without compromise on high lifetime production. Put some time in it, add the numbers, be surprised!